PERFORATED METAL MESH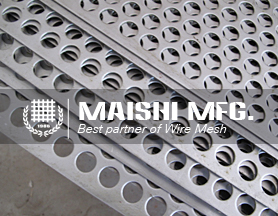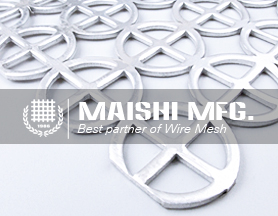 Maishi perforated metal mesh
Material:
plain steel sheet, galvanized steel sheet, stainless steel sheet, copper sheet, brass sheet, aluminum sheet
As for details of material please click "
ALLOYS
" Punched openings can be round, square, triangle, diamond, hexagonal, cross, etc. The round hole perforation is the most popular type of perforated pattern used and is manufactured in coils or sheets..
Uses:
Perforated metal mesh is extensively in the architectural, engineering, building, agricultural, nuclear power, food processing, and petrochemical industries.

Plate
Material
Thickness of
Metal (mm)
Hole
Dia. (mm)
Pitch
(mm)
Sheet
Width (m)
Sheet
Length (m)
Porosity
(%)
Weight
(kg/m2)
Rolling
plate
0.2Ø 62120440.88
0.35Ø 54120242
0.45Ø 63120352.5
0.8Ø 3312019.63
Flat
plate
0.5Ø 111219.63.14
0.551.12.21222.673.411
0.551.52.81226.033.268
0.8Ø 1.51.51219.65
0.8Ø 2.03.41230.784.465
1.5Ø 221219.69.4
1.55.08.01235.397.843
3Ø 5161219.618.8
Stainless
steel plate
0.5Ø 111219.63.14
0.8Ø 1.51.51219.65
1Ø 221219.66.28
2Ø 5161219.66.28
Aluminum
plate
0.5Ø 111219.61.08
0.8Ø 331219.61.72
1.6Ø 221219.63.24
3Ø 4161219.64.23